Meet the Staff
COORDINATORs:

EOP Staff
TELEPHONE:
805-756-2301
EMAIL:
eop@calpoly.edu
LOCATION:

Summer Institute
Science Bldg 52-E7
California Polytechnic State University
San Luis Obispo, CA 93407
Staff
Lyzette Martin
Hi everyone! My name is Lyzette Martin, I grew up in Visalia CA, but the central coast is now my home. I am a proud first generation college student. I started my educational career at a community college and then transferred to Fresno State where I earned my Bachelor's in Psychology. I then moved to beautiful San Luis Obispo and earned my Master's of Arts in Education with an emphasis in Counseling and Guidance. I view my counseling role as an educator, a coach, a mentor and as a supporter. It is my goal to treat each student as a unique individual and take into account all aspects of their lives. During my free time, I love watching baseball (GO DODGERS!), I enjoy being outdoors, and spending time with friends and family. I have a daughter who bring so much joy to mine and my husband's lives. I am proud to work with such hardworking and motivated students and I'm excited to learn more about you!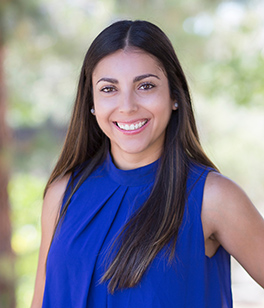 Nury Baltierrez
Hola! I'm Nury. I was born in Michoacán, Coalcomán de Vázquez Palleres, México. My family and I lived in México for the first two years of my life and then we moved to the United States. Navigating higher education as an undocumented first-generation student was challenging, but I connected with individuals who believed in my potential. I graduated from Cal Poly, San Luis Obispo with a bachelor's in Agriculture Science and master's in Counseling and Guidance for Higher Education. During my free time, I enjoy being outdoors, traveling, and spending time with my family. My passion is to support students' personal and professional goals. Sí se puede!
Cynthia Diaz
Hello everyone! My name is Cynthia Paz, I was born and raised in Guadalupe, CA.  I began my higher education at Allan Hancock College in Santa Maria where I received a degree in Liberal Arts.  I then transferred to Cal State Northridge and received a degree in Child & Adolescent Development.  After working with preschool age children I quickly realized I wanted to work with older students.  I attended Cal Poly, San Luis Obispo where I earned a Master's of Arts in Education with an emphasis in Counseling and Guidance: Higher Education & Student Affairs. My career goal was to become an Academic Counselor and serve underrepresented students in the Central Coast area. I began my work at Allan Hancock College, working for various departments as an Academic Counselor for over three years. It is one of my greatest accomplishment to be able to work for EOP and this population of students. I love working with students and being part of their educational experience.
When I am not at work I enjoy wine tasting and spending time with my family. I have identical twin boys that are my world. They keep me on my toes and inspire me to be the best person that I can be.
I can't wait to meet you all!
Learning Assistants
Eduardo Jesus Lopez
Hello everyone! I am super excited to meet you all, even if it is only through zoom for the time being. My name is Eduardo Jesus Lopez, but I go by Eddie. I am a 4th year student pursuing a double major in Psychology and Comparative Ethnic Studies, as well as a minor in Child Development. I participated in Summer Institute (SI) in 2017 and this year will be my returning/ second year as a Learning Assistant! I am from the Central Valley (Sanger, CA). When I am not focused on school/ studying I enjoy watching horror films (give me suggestions if you have any!), hiking, playing volleyball, being at the beach, painting (boss ross paint night?) playing games (card/board/video), and essentially anything that allows me to occupy myself! If you have any questions regarding school, transitioning away from home, or just social life in slo, feel free to reach out to me. We all have similar struggles and in knowing that, we are not alone. I can't wait to meet you all and get to know you.
Berenice Gonzales
Hi everyone! My name is Berenice Gonzalez but I go by Bere. I am a rising 4th-year Sociology student with Ethnic Studies and Child Development minors. I am from Michoacán, Mexico but was raised in Santa Rosa, California. Being a first-generation, low-income student at Cal Poly has its challenges but I along with all of the other EOP staff are here to help you succeed. I want to help make your transition into college as easy as possible and serve as a resource for you. When I am not focusing on academics, I like to relax and listen to music. I love to dance, go to concerts, and just have a great time with my friends. I look forward to meeting you all this summer!
Angela Mendez
Hello everyone! My name is Angela Mendez but go by Angie. I am a third-year majoring in Business Administration concentrating in Human Resource and Management with a minor in Psychology. I am a proud first-generation college student from South Gate in the Los Angeles area. I love spending time with my family and friends, going to the beach and I have an addiction to boba. If you ever want to go get some boba, I'll be there! I also enjoy going dirt-bike riding, skating and hiking. I did Summer Institute in 2018 and I cannot thank EOP enough for what they have done for me, so here I am giving back! The memories and friendships you create with this program are long lasting and this is only the beginning to an amazing journey here at Cal Poly. I hope you all are just as excited as I am. I can't wait to meet you all!
Juan Osorio
Hello! My name is Juan Osorio and I am a 3rd year Civil Engineering major also pursuing an Ethnic Studies Minor. I am from Redwood City, California and an the second oldest sibling from my family of 7. I love the outdoors, such as going to the beach or going on hikes or bonding with my friends or siblings. I enjoy watching cooking shows and movies, basketball and listening to music! Transitioning into Cal Poly as a first-gen low income student was definitely a huge leap in my life. With summer institute, it helped put me at ease and show that I belonged here along with the other amazing peers I was able to meet. I hope to be able to provide support and guidance to help start your college career. I am excited to meet y'all soon!
Valeria Martinez
Hello SI 2020! My name is Valeria Martinez, and my hometown is San Francisco, California. I am a rising 4th year Biological Sciences student with a minor in Ethnic Studies. I was a part of SI 2017, and a Learning Assistant for SI 2019. I am so excited to meet you all and to be a part of this years team!
Maritza Perez
Hi everyone! My name is Maritza Perez and I am a third-year Anthropology and Geography major. My hometown is Templeton, right here on the Central Coast! Some quick facts about me are that I love cooking for my loved ones, socializing, running, and playing video games. I am so excited to meet you all and help guide you through this important transition
Yahaira Valenzuela
Hello! My name is Yahaira Valenzuela and I am an Ethnic Studies major with a minor in Spanish. I am going into my last year at Cal Poly and I am excited to share everything that I have learned with you all. I am from a little town in Northern California called Fort Bragg. Some things that I enjoy doing are going to the beach, going out to eat with my friends, cooking, or reading. I also love spontaneous trips with my friends in SLO. I am not sure what I'd like to do after college, but I am very passionate about social change so I think anything I do will relate to that. I am so excited to meet you all and help you with this crucial transition!
Related Content