Meet the Staff
COORDINATORs:

EOP Staff
TELEPHONE:
805-756-2301
EMAIL:
eop@calpoly.edu
LOCATION:

Summer Institute
Science Bldg 52-E7
California Polytechnic State University
San Luis Obispo, CA 93407
Staff
Lyzette Martin
Hi everyone! My name is Lyzette Martin, I grew up in Visalia CA, but the central coast is now my home. I am a proud first generation college student. I started my educational career at a community college and then transferred to Fresno State where I earned my Bachelor's in Psychology. I then moved to beautiful San Luis Obispo and earned my Master's of Arts in Education with an emphasis in Counseling and Guidance. I view my counseling role as an educator, a coach, a mentor and as a supporter. It is my goal to treat each student as a unique individual and take into account all aspects of their lives. During my free time, I love watching baseball (GO DODGERS!), I enjoy being outdoors, and spending time with friends and family. I have a daughter who bring so much joy to mine and my husband's lives. I am proud to work with such hardworking and motivated students and I'm excited to learn more about you!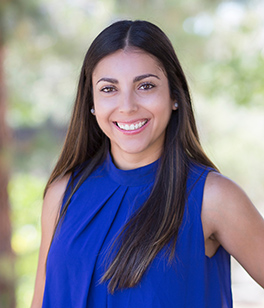 Nury Baltierrez
Hola! I'm Nury. I was born in Michoacán, Coalcomán de Vázquez Palleres, México. My family and I lived in México for the first two years of my life and then we moved to the United States. Navigating higher education as an undocumented first-generation student was challenging, but I connected with individuals who believed in my potential. I graduated from Cal Poly, San Luis Obispo with a bachelor's in Agriculture Science and master's in Counseling and Guidance for Higher Education. During my free time, I enjoy being outdoors, traveling, and spending time with my family. My passion is to support students' personal and professional goals. Sí se puede!
Cynthia Diaz
Hello everyone! My name is Cynthia Paz, I was born and raised in Guadalupe, CA.  I began my higher education at Allan Hancock College in Santa Maria where I received a degree in Liberal Arts.  I then transferred to Cal State Northridge and received a degree in Child & Adolescent Development.  After working with preschool age children I quickly realized I wanted to work with older students.  I attended Cal Poly, San Luis Obispo where I earned a Master's of Arts in Education with an emphasis in Counseling and Guidance: Higher Education & Student Affairs. My career goal was to become an Academic Counselor and serve underrepresented students in the Central Coast area. I began my work at Allan Hancock College, working for various departments as an Academic Counselor for over three years. It is one of my greatest accomplishment to be able to work for EOP and this population of students. I love working with students and being part of their educational experience.
When I am not at work I enjoy wine tasting and spending time with my family. I have identical twin boys that are my world. They keep me on my toes and inspire me to be the best person that I can be.
I can't wait to meet you all!
Learning Assistants
Adriana Villicana
Major: 

Nutrition
Hello everyone, my name is Adriana Villicana (she/her/hers), and I am a third-year majoring in Nutrition with a minor in psychology. I am a low-income, first-generation bisexual Latina student from the LA area but born in New Mexico. I am currently pursuing to become an Eating Disorder Therapist working at hospitals but first want to work as a Nutritionist/Dietician. Several of my hobbies are journaling, painting, cooking, working out and binge-watching old show. Currently, I am rewatching Adventure Time and Futurama during my free time and trying new food! 
Tina Ho
Major: 

Business Administration
Hey everyone! My name is Tina Ho (she/hers) and I am an upcoming third year Business Administration major, concentrating in Marketing. I am a first-gen college student from Dublin, CA! On campus, I am the Director of Business Development for Alpha Kappa Psi and the VS PINK campus rep! I enjoy spending time out in the sun, shopping, baking, and making new friends! I look forwards to meeting you all! 
Ithzel Castañeda
Major: 

Psychology
Hello everyone, My name is Ithzel Castañeda (She/Her/Hers) and I will be a second year this upcoming fall. I'm a first generation Latina coming from the Bay Area. I'm a proud EOP student at Cal Poly! The organizations I'm involved in on campus are Psychology club DEI/ Social Chair , Psychology Department Social Media Manager, and Greek life(Sigma Omega Nu). Some of my hobbies include hiking , plant shopping, and writing poetry. 
Raul Cordova
Major: Chemistry
Hi everyone! My name is Raul Cordova (He/Him/His) and I am a fourth year Chemistry major. I was born in beautiful San Luis Obispo, and raised in the small town of Atascadero, California. I am a proud first-generation, low-income college student who definitely loves his food. I enjoy keeping myself busy by staying active, learning new things, and working. I'm involved with student research and work at the library on campus. I aspire to continue my education after college and go into the medical field. As a final note, I just wanted to mention that I love EOP!
Nancy Padilla
Major: Architecture
Hi everyone! My name is Nancy Padilla and I am a 4th year Architecture major. I am a first-generation student from Redwood City, CA. Some of my favorite things to do are finding new music to enjoy, going to new spots around SLO, and spending time with friends and family. This past year, I've been involved with some of the cultural events, such as PCW and CCE WOW. I hope to continue working with these orgs and EOP for the years to come. 
Mandy Yang
Major: Animal Science
Hello everyone! My name is Mandy, pronouns are She/Her/Hers, and I am a second-year animal science major on the pre-vet track in hopes of becoming a small animal veterinarian. I am a first-generation, Hmong American student born and raised in Fresno, California. During my free time I enjoy baking, journaling, going on adventures with my dog Toto, and finding new coffee drinks to suffice my caffeine addiction. 
Jeremiah Hernandez
Major: Higher Educational Counseling/Student Affairs
Hi everyone! My name is Jeremiah Hernandez (he/him/his), and I am a master's student in Cal Poly's Higher Education Counseling / Student Affairs (HECSA) program. I also completed my BA in ethnic studies at Cal Poly and am proud to be an EOP alum. I am a first-generation college student, was born and raised in Santa Maria, CA, come from a working-class family, and identify as Mexican and Filipino-American. I'm very excited to be a part of Summer Institute 2022 and look forward to working with you all as you begin your time at Cal Poly!
Ivan Rosas
Major: Industrial Engineering
Hello everyone! My name is Luis Ivan Rosas and I am a first year Industrial Engineering major. I was raised in a collection of small farm towns in the Central Valley outside of Fresno, CA. I graduated from Riverdale high school, yes like the show, but if you know where this is at….. Shout out! I really enjoy hanging out with family, friends and my dog, Apollo, as well as my turtle Elmer. I also enjoy cooking and trying new foods. I hope to achieve my Masters in Engineering Management through the 4+1 program here at Cal Poly and use that to further my career.
Related Content